Mazda chip tuning
PowerControl - The performance chip for your Mazda
✓
approx. 30 % more power for your Mazda
✓
Incl. parts certificate for over 4,000 vehicle models
✓
Easy installation with installation instructions
✓
Comprehensive warranty services
✓
Purchase on account and installment purchase possible
Configure your Mazda chip tuning here:

More power and torque for your Mazda:
Your Mazda can do more: Benefit from up to 30% more power and 15% fuel savings for your Mazda as well as a good feeling of safety. Because for many Mazda models, the parts certificate is already included. The same goes for the comprehensive warranty for engine, engine management and differential. In addition, there is a 30-day money-back guarantee for all those who like to test-driving pleasure at their leisure.
Chip tuning "PowerControl" for your Mazda
Significant performance increases are possible for Mazda with diesel engines thanks to the DTE chip tuning PowerControl. Connected to the central sensors of the Mazda engine management system - including boost pressure, camshaft and the fuel injection sensors - it unleashes its full power. Passed on to the ECU, the incoming signals are recorded and optimized. In the Mazda CX-5 2.2 D compact SUV with 175 hp, an additional 25 hp is then possible. At the same time, the torque also increases from 420 to 480 Newton meters. But DTE can also achieve full effect in smaller engines. In the Mazda 6 2.0 MZR-CD with 140 HP series value, a plus of +40 HP is possible. In addition, the torque also increases by 65 Nm to a whopping 395 Nm.
NEW: Chip tuning control via the PowerControl App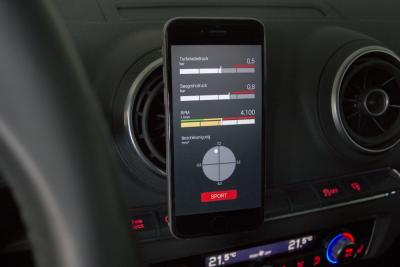 The DTE performance chip PowerControl X can now also be operated from the cockpit. The additional performance of the DTE chip tuning can thus be easily switched on or off using the smartphone. And with a simple swipe of the phone, the driver switches between the various programs Sport, Dynamic and Efficiency, depending on the driving situation.
A special highlight of the PowerControl app is the performance instruments, which display all relevant engine performance data live. The overall package of the PowerControl app also includes an innovative acceleration sensor and a configurable warm-up timer.
Easy installation & comprehensive warranty in the Mazda - Your advantages of PowerControl
Simple installation
simple installation using the plug-in method
removal possible at any time
Comprehensive warranty
2 years warranty on our product
including parts certificates for over 4,000 vehicle models
Shop with confidence
30-day money-back guarantee
already from 499 EUR incl. VAT for your Mazda
purchase on account and instalment purchase possible in our online store
Mazda engine tuning from DTE is available for the following models: