KIA pro_cee'd T-GDI - A great motorway cruiser!
Kia Cee'd Chiptuning? Let's do it this way!
The Cee'd may be designed for comfort over driving fun. However, the performance focused pro_cee'd, features a 1.6-litre turbo petrol engine, which kicks out a bulky 204 HP. We'd recommend a visit at DTE, for a better pulling power (+ 65 Nm) and a bit more muscular appearance (+ 38 HP).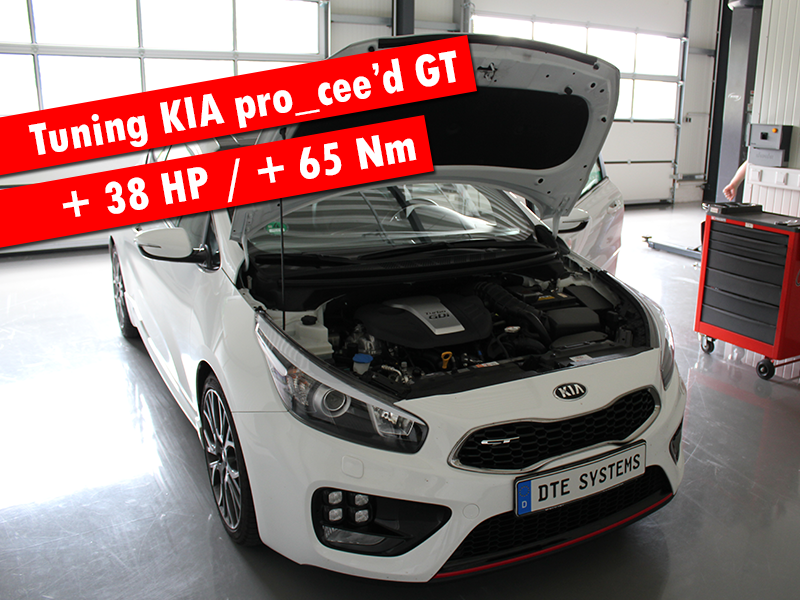 Kia Cee'd Chiptuning at DTE
PowerControl Kia Cee'd - DTE Chiptuning
With a Chiptuning the KIA pulls strongly, revs sweetly and is relaxed at motorway speeds. Thanks to strong power delivery, the Cee'd is a pleasure to drive and a great performer.
Ready! More power for your Korean tuning car
KIA pro_cee'd 1.6 T-GDI 204 HS

performance + 38 Hp
torque + 65 Nm
Great idea: For a better response, our PedalBox is an ideal addition to our Chiptuning.

4 different driving modes and seven power levels are available by just pressing a button. Get to know more: DTE PedalBox