Raising to a new level: BMW X1 with a DTE Systems tuning
Engine and gas pedal tuning for the compact X-SUV - now also via smartphone app
Almost every third BMW sold is now an X model. But the competition is not sleeping: Mercedes is poaching on X1 territory with the GLA and Audi with the Q2. For the increased competition, the BMW X1 is now also available with tuning from DTE Systems. With more power and higher torque, the lead over the competition is significantly greater.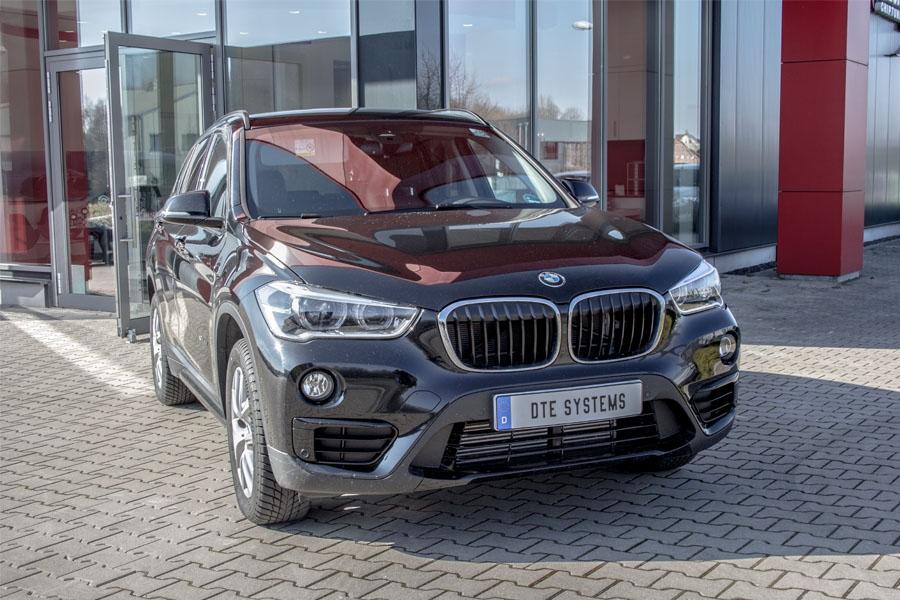 BMW X1
Configure your BMW X1 chip tuning:
品牌制造商
-----------------------------
车型
-----------------------------
发动机
-----------------------------
Best values: Engine tuning for the BMW X1
With the PowerControl X chip tuning from DTE Systems, the two-liter gasoline engine now has 230 hp of power and 335 Nm of torque. That's +38 hp more power and +55 Nm more torque compared to the standard X1. The DTE tuning lets the BMW X1 storm from 0 to 100 in a few seconds and sweep across the left-hand freeway lane at over 220 km/h.
BMW X1: Faster with chip tuning
The PowerControl X performance upgrade from DTE Systems can be connected easily and in just a few steps in the engine compartment. To do this, the tuning system is connected to the central sensors, such as boost pressure and camshaft sensor. It is also just as easy to return the system to its standard state without leaving any residue, e.g. when the vehicle is changed. The tuning app gives BMW drivers full control over their horsepower at all times. The extra power can be easily switched on or off via a smartphone app. Individual tuning programs can also be selected on the tuning app. From sporty-dynamic to consumption-optimized - the chip tuning app from DTE Systems makes it possible.
BMW X1 chip tuning app: These are the highlights
A special highlight of the tuning app are the sports instruments. All important engine performance data can be read in real time at a glance. In addition, the G-meter, an innovative accelerometer, displays the longitudinal and lateral acceleration. The chiptuning app from DTE Systems is available free of charge from the iTunes AppStore or Google Play. The PedalBox is the gas pedal tuning from DTE Systems and a perfect complement to the engine tuning. With the gas pedal tuning, the BMW X1 accelerates without the famous thinking seconds. The PedalBox is also quickly ready for use and easy to operate. To do this, the Pedal Tuning is connected to the gas pedal sensor. The PedalBox also offers various preset tuning programs to choose from.
DTE at a glance
Technology leader since 1996
Developed and manufactured in Germany
Ready for shipment in 24 hours
Personal consultation
Safety & Warranty