More power and endurance for the A-Class
Chip tuning PowerControl strengthens the Mercedes A180
The Mercedes A180 is even
more powerful
with the PowerControl X add-on module. With 159 hp and over 200 Nm, the A-Class sedan is more powerful and faster on the roads..
---
Konfiguriere jetzt dein Mercedes A-Klasse Tuning:
-----------------------------
-----------------------------
-----------------------------
Mercedes A180 1.3 Turbo mit 136 PS
Elegant and simple design, combined with robust and powerful engine. The Mercedes A-Class stands for safety and Mercedes history. With 136 hp and 200 Nm the Mercedes A180 drives over the road. At the same time, its top speed is 215 km/h and it comes to an acceleration of 9.2 seconds from 0 to 100 km/h, with a consumption of 7.4 liters. To make the Mercedes A180 faster and yet more economical, the DTE developers have developed the PowerControl X chip tuning for the A180 engine.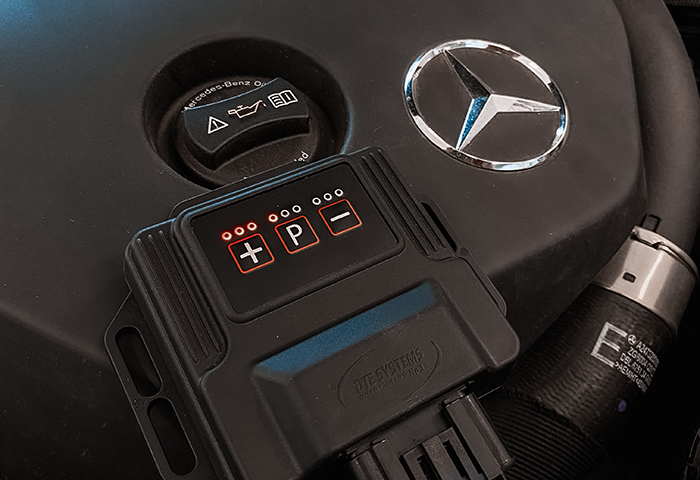 Chip tuning PowerControl X in the Mercedes A180
Chip tuning PowerControl X exploits the extra power Mercedes A180 to give the sedan even more strength. Thanks to the in-house developed and produced performance enhancement, a healthy and strong additional power of +23 hp and +43 Nm can be achieved in the A-Class sedan, bringing it to 159 hp and 243 Nm. The plug-in module optimizes all relevant parameters for the air-fuel mixture and thus ensures more effective combustion. On the one hand, this increases performance, and on the other, it reduces fuel consumption. In the Efficienty mode of the PowerControl, fuel savings of up to 15% can therefore be achieved. In addition to increased performance and lower fuel consumption PowerControl X includes a 5-year product warranty.
---
DTE at a glance
Technology leader since 1996
Developed and manufactured in Germany
Ready for shipment in 24 hours
Personal consultation
Safety & Warranty