25 % more power in the Hyundai i20 N
More performance in the Hyundai i20 N
The Hyundai i20 N with 204 hp is the new powerful mini sports car that brings driving fun and speed to the road. For optimum power and demeanor, the PowerControl performance chip offers nearly 25% more power for the Hyundai i20 N.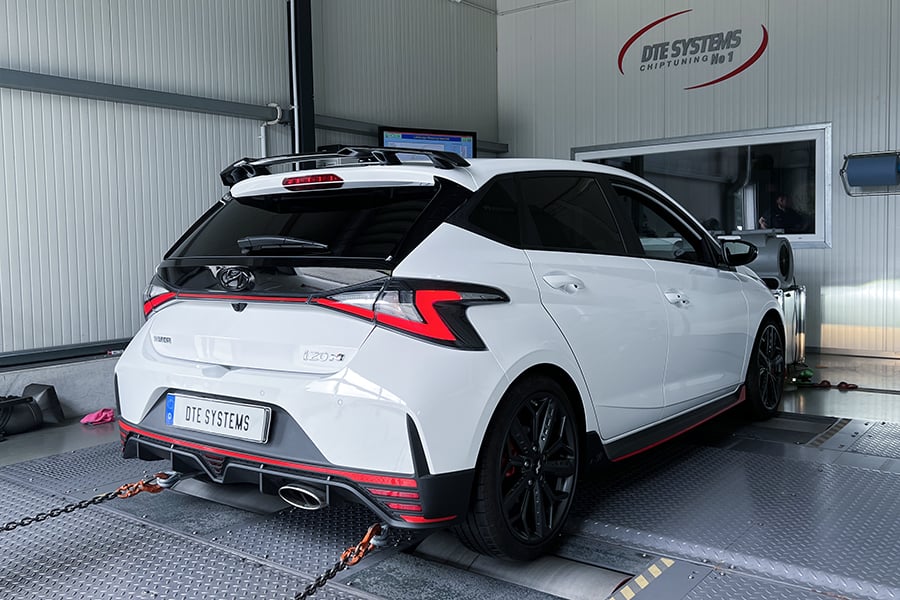 As a member of the N-Performance range, the Hyundai i20 N features a 1.6 T-GDi engine with 204 hp and 275 Nm of standard output. From the outside, the mini sports car appears with high-performance add-on parts such as Pirelli performance tires, N brake calipers and cascade radiator grille for optimized cooling of the high-performance engine. From the inside, the high-performance compact car bounces with sport seats, leather accents and a spacious cockpit. With the chip tuning PowerControl X , the i20 N shows itself to be even sportier and more dynamic with a power increase of +50 hp and +69 Nm.
Configure your Hyundai i20 N chip tuning now!
Manufacturer
-----------------------------
Model
-----------------------------
Motor
-----------------------------
---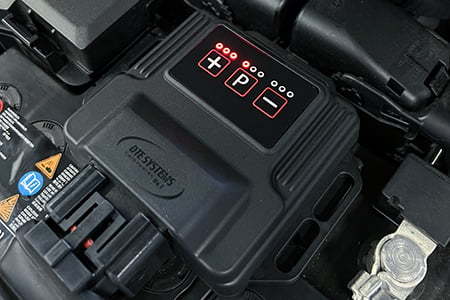 The chip tuning PowerControl X exploits the extra power in the Hyundai i20 N to make the sporty small car ready for the racetrack. Thanks to the in-house developed and produced engine tuning, a healthy and strong additional power of +50 hp and +69Nm can be achieved in the i20 N, bringing it to 254 hp and 344 Nm. The performance upgrade thereby optimizes all relevant parameters for the air-fuel mixture in the Hyundai i20 N and thus ensures more effective combustion. Therefore, not only more power and performance is available, but also an improved speed is noticeable (-1.7 seconds elasticity measurement on the MAHA dyno from 80 - 160 km/h in the 4th test gear). Included with the increased performance, PowerControl X includes a
5-year product warranty
.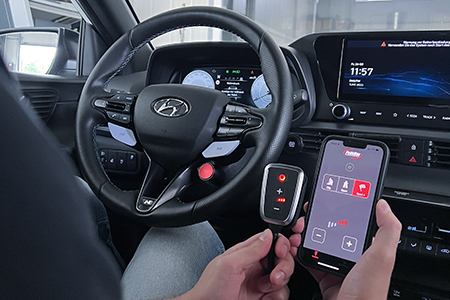 To be even more dynamic and ahead when starting and overtaking, the Hyundai i20 N can be equipped with the throttle tuning PedalBox. The modern throttle response controller prevents annoying seconds of thinking when starting off or intermediate acceleration and is installed in the i20 N in just three simple steps. This gives the mini sports car optimized response and allows it to take off in no time at all. The PedalBox pulls the Hyundai i20 N forward with momentum for a dynamic start and overtaking. This makes driving in the small car even sportier and more race-like.
Chiptuning for the Hyundai i20 N
Performance 204 HP (+50HP)
Torque 275 Nm (+69 Nm)
More about Hyundai
DTE at a glance
Technology leader since 1996
Developed and manufactured in Germany

Ready for shipment in 24 hours
Personal consultation
Safety & Warranty