PowerControl X: More power for your vehicle
Best performance with the DTE chip tuning
DTE Systems stands for quality in engine tuning - 100% made in Germany. Therefore, the
chip tuning PowerControl
adjusts the most important engine parameters so that power and torque increases without exceeding the healthy, possible maximum. The engine tuning can thereby optimize all modern engines and enable a performance increase of up to 30% more horsepower and torque.
These are PowerControl benefits:
Dyno tested for proven results
Available for over 15,000 vehicle types
Reliable and safe with DTE technology
5 years product warranty available
Easy installation via Plug&;Play
Chip tuning via app control
PowerControl - Innovative engine tuning for safe extra performance
Performance-enhancing chip tuning is our core business: That is why the PowerControl family is developed and produced at DTE headquarters in Recklinghausen and is represented in over 100 countries worldwide.
In addition to in-house production, the chip tuning uses modern programming and has a wide range of functions: the add-on unit optimizes all relevant parameters of the fuel-air mixture by means of multi-characteristic field technology and ensures better combustion. On the one hand, this increases performance, and on the other, it can reduce fuel consumption by up to 15%. This specific tuning therefore makes it possible to achieve an increase in performance in almost all engines - whether common rail diesel, turbo gasoline or hybrid with analog and digital SENT technologies. This individual tuning is made possible by 25 years of tuning experience in the field of ECU tuning, chip tuning and optimization of additional modules.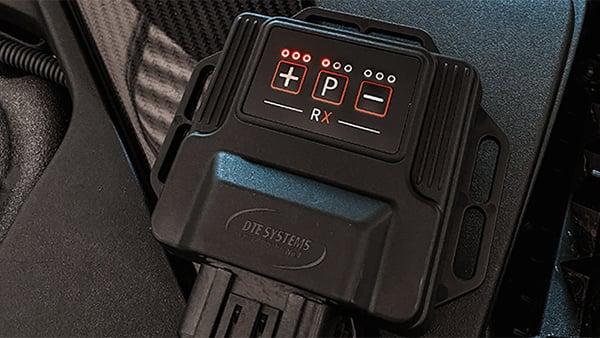 PowerControl RX: Racing power for sporty engines
PowerControl RX is the most powerful module in the DTE family. The racing chip optimizes sports cars such as Mercedes AMG, BMW M, Audi RS, Porsche, McLaren, Ferrari and many more. The performance upgrade is equipped with an advanced, individually adjusted tuning algorithm to get the most potential out of the powerful engines. The specially developed DTE multichannel and multiprotocol technology ensures that PowerControl achieves the best extra power and performance not only in twin and bi-turbo engines, but also in powerful hybrids.
PowerControl: Powerful tuning for everyone
With PowerControl you can choose between 3 different driving programs: Sport, Dynamic and Efficiency. Each program is characterized by its own focus and gives the driver the opportunity to individually adapt the tuning to their driving style. Each mode has 7 performance levels with which the performance increase can be fine-tuned.
Sport mode: Maximum performance, maximum driving pleasure
Dynamic mode: Energetic, enduring, agile
Efficiency mode: Drive more efficiently, save fuel
Chiptuning control with app
The performance chip PowerControl X can also be operated from the cockpit and can be easily switched on or off via smartphone app. The app also includes performance instruments that display all relevant engine performance data live, as well as an acceleration sensor and a configurable warm-up timer.
The engine tuning can also be operated via voice control on iPhone and Android, making it the first and only tuning with individualization of real-time performance on command.
More performance with safety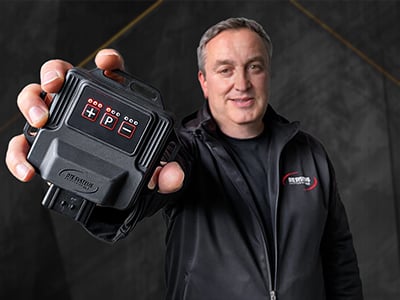 The DTE PowerControl X performance upgrade comes with a comprehensive service and safety package. For all performance enhancements of the PowerControl series, drivers receive an extended
product warranty of 5 years
.
To ensure the claim of highest quality "Made in Germany", each module is tested on the in-house MAHA test bench. Therefore, the extended product warranty of 5 years applies to all DTE tuning products. Whith this, DTE Systems underlines its claim for the highest tuning quality Made in Germany.
Simply get started with Plug&Play
All add-on control units are supplied as a complete set, together with vehicle-specific programming and matching adapter cables. The PowerControl engine tuning can be easily installed via plug-and-play and converted back to standard mode at any time. After installation, the PowerControl is immediately ready for use.
Convince yourself
You too can benefit to the full extent from a DTE performance upgrade for your vehicle. Choose your suitable tuning module from our configurator.
Easy to plug in and out before servicing
5-years product warranty & 5-year software update service on all DTE products
Developed, tried and tested on a dyno
Test now 30 days risk-free