DTE Systems – Euro Tuner's 2016 Champions
"Best improved performance and by far the best service"
At the recent Euro Tuner's 2016 tuning system competition, DTE's PowerControl scored full marks in every category. In this the 150th anniversary edition of the famous European tuning magazine, DTE were crowned as the clear champions.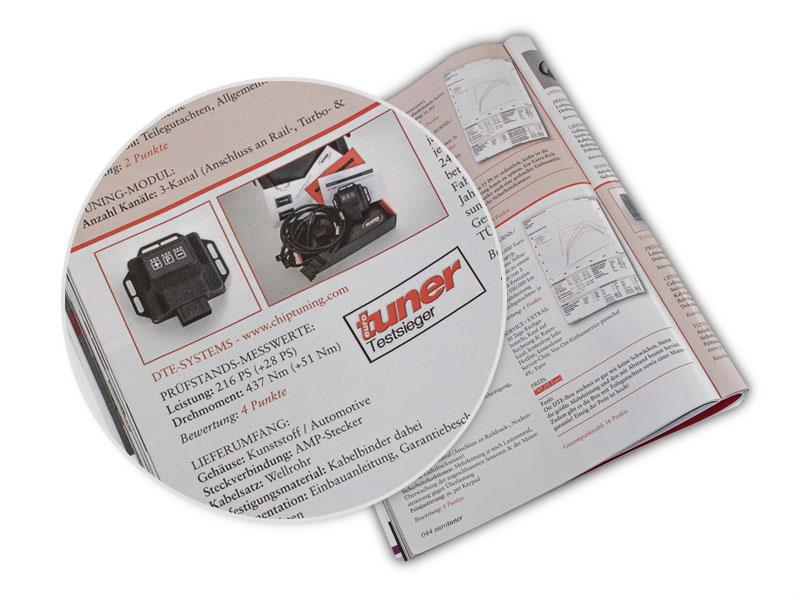 All 6 competitors were scrutinized by the editorial team and then tested on a dynamometer. The results of the dyno were analyzed and DTE's PowerControl came up trumps, winning the "Best improved performance" category.

And what's more, DTE was chosen as the winner after scoring full marks in each category thanks to the extra's that were included, like the TÜV parts approval and the comprehensive engine warranty.
What was tested?
Part 1: The Dyno Test
Naturally, the German magazines main focus was on the tuning modules test results (power and torque), which were all accurately measured on the dynamometer. The test subject was the 184 hp Golf VII GTD 2.0 which actually measured 188 hp as stock. DTE Systems scored full marks in the performance category by winning it after its PowerControl achieved figures of 216 hp (+28 hp) and 437 Nm (+51 Nm).
Part 2: The packaging
Besides performance, the testers also awarded points for the contents of the packaging. In addition to the tuning module and the wiring harness, only DTE's documentation was complete and consisted of an installation manual, a warranty certificate and TÜV parts approval making them the winners in this category too.
Part 3: The tuning system
The examiners also judged the chip-tuning modules themselves, which included the number of sensor connection points, their security features, as well as their fine tuning functionality. Once again DTE's PowerControl was awarded the top ratings by the magazine, thanks to its modern 3-channel system, whose tuning module boasts class leading security standards and is easy to adjust via its electronic keypad.
Part 4: TÜV parts approval and warranty
In the final part of the extensive tuning system test, the magazine took a look at engine warranties and the TÜV parts approvals. Thanks to their comprehensive 2 year engine warranty and TÜV parts approval, DTE Systems were awarded the maximum score by the Eurotuner editors.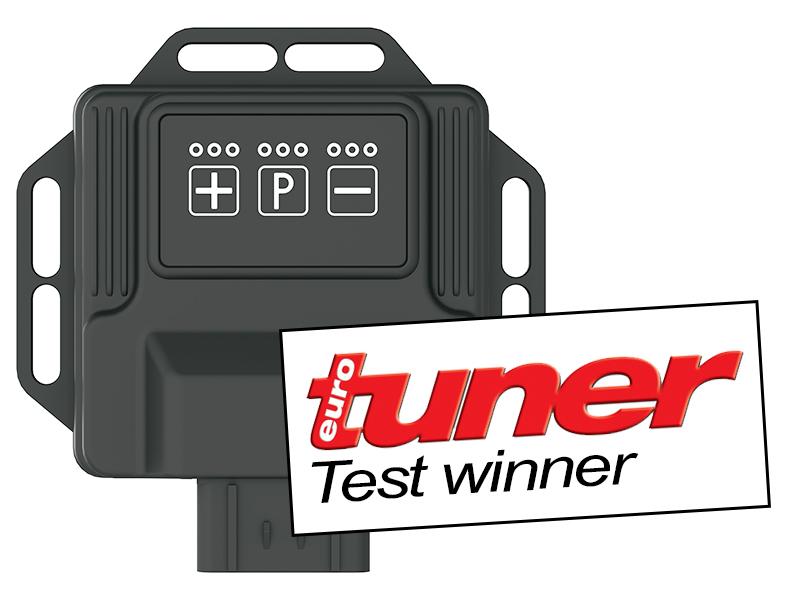 To top it all off: DTE's service excellence
Even though it was not part of the test scores, DTE's excellent service did receive a special mention from the magazine's editors.

They were so impressed by DTE that they had this to say: "Best improved performance and by far the best service."
Check out the many advantages of DTE's tuning systems!
Get all the benefits for your car from the test winning PowerControl. Put your vehicle 1st and choose the best tuning system.