PowerControl X: More performance for your vehicle
Best conditions for the highest performance with the DTE tuning
DTE Systems sets technological standards in engine tuning: With the newly developed PowerControl X and RX performance chips and an innovative technology platform, all engines can be optimized for the first time - from common-rail diesel to turbo petrol engine, hybrid up to the latest bi-turbo hybrids with analogue and digital SENT technology.
This is PowerControl
X

: ›

The tuning box with smartphone app control ✓

›

Available for more than 10,000 vehicles ✓

›

Dyno tested for proven results ✓

›

5 years product w

arranty available ✓

›

Reliable and save with the latest tuning technologies ✓

›

Easy to install with vehicle-specific instructions ✓
PowerControl
X

: Innovative motor tuning for more performance

Performance tuning boxes are the core business of the tuning manufacturer from Recklinghausen, with its own ECU development, module and cable production and an own vehicle tuning. Get up to 30 % more power and torque with PowerControl. The PowerControl X performance box also has its own efficiency program, saving up to 15% fuel.
PowerControl X in motion: The smart power package for a better performance!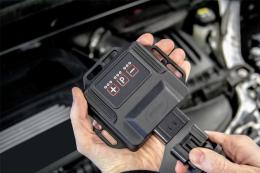 DTE tuning: More hp with PowerControl X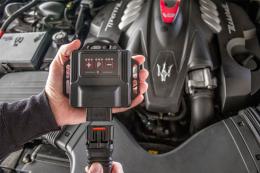 Racing chip PowerControl RX for all sports cars
Tuning control with smartphone app
PowerControl R
X

: Racing performance for powerful engines

PowerControl RX is the most powerful tuning system in DTE's family. The RX optimizes sports cars like Mercedes-AMG, BMW M, Audi RS, Porsche, McLaren, and Ferrari, to name but a few. DTE's PowerControl RX has extended multichannel ad multiprotocol technologies with specialized tuning algorithms, suitable for all high-performance engines including twin-turbos, bi-turbos and hybrids.

All DTE tuning boxes are supplied as a complete set, together with vehicle-specific programming and matching adapter cables. All tuning products from DTE Systems can be easily installed via plug-and-play. The installation is simplified by detailed and illustrated installation instructions.
Tuning control with the PowerControl App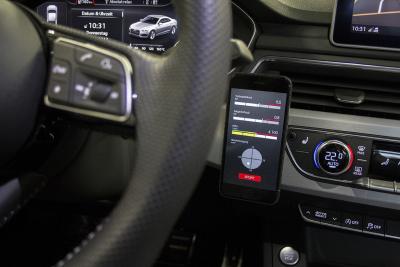 The new DTE racing chips PowerControl X and RX can now also be operated from the cockpit. The chip tunings' extra power can be easily switched on or off with the smartphone. As simple swipe on the smartphone lets the driver change various programs depending on the driving situation: Sport, Dynamic and Efficiency.
A highlight of the PowerControl app are the performance instruments, which show all relevant performance data of the engine in real-time. The complete package of the PowerControl app also includes an innovative accelerometer and a configurable warm-up timer.
NEW: Tuning with voice control - customization by command
DTE Systems is the first tuning company ever to offer a tuning app with voice control for Apple's iPhone. Using Siri's voice control (as of iOS 12), the driver can store the most important voice shortcuts in the tuning app. The different driving programs can be set or switched on and off using only the voice. The performance of the real-time values can also be easily displayed on voice command.
DTE tuning: The warranty packages for more power
The DTE racing chips PowerControl X and RX are equipped with an extensive service and safety package. For all performance tuning boxes of the X-Series, drivers can receive an extended product warranty of 5 years. Whith this, DTE Systems underlines its claim for the highest tuning quality Made in Germany.
Benefits at a glance
The benefits of DTE's PowerControl performance system for your vehicle. Use our online configuration tool to find your car:
Easy to plug in and out before servicing
Developed, tried and tested on a dyno
5

years product

warranty available
Includes a 5-year software update service on all DTE's products
30-day money-back guarantee from date of purchase