The strongest BMW diesel with even more power now
Motor tuning BMW 750d: DTE Systems stays in the fast lane!
DTE Systems is known for powerful and stable chip tuning. The current BMW 750d xDrive (G11) shows that this tuning is also a success in the world's most powerful six-cylinder diesel. The luxury engine that was introduced in summer 2016 has already an impressive 400 hp and 760 Nm of torque in stock performance. After the tuning of DTE Systems, a clear power plus is added.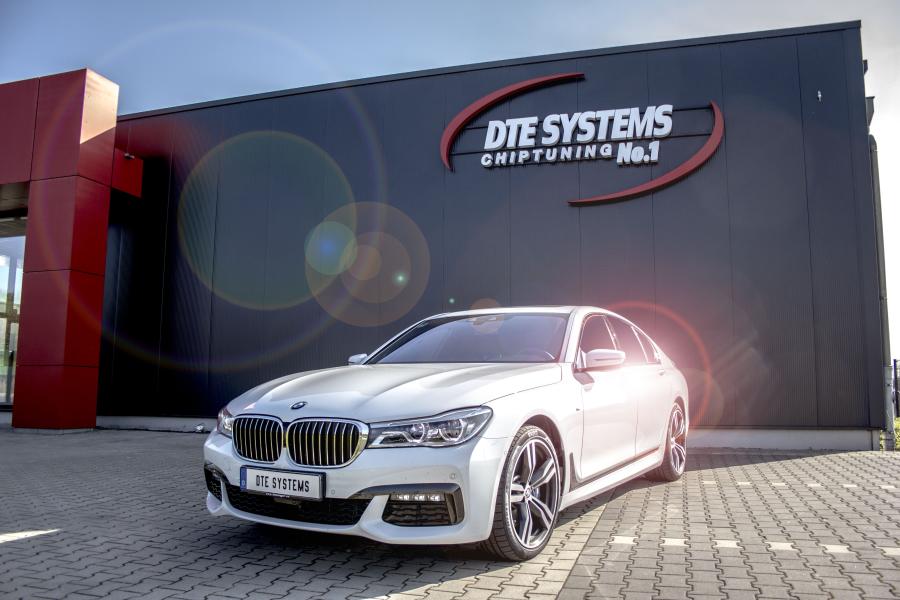 BMW 750d
Configure your BMW 750d chip tuning now:
Manufacturer
-----------------------------
Model
-----------------------------
Motor
-----------------------------
More power for the performance champ
Compared to the predecessor engines, the Quadturbo diesel engine convinces with more turning pleasure and a spontaneous response. With the installation of the DTE Plug&Play performance chip PowerControl, this distance is significantly increased. After a dyno drive, the tuning development and several test cycles, the power module is put immediately into action. Installed in the engine and connected to all sensors, the high performance pumps through the veins of the luxury BMW.
Go far with DTE: performance values like in racing
At the end of the day, 47 hp more power and 123 Nm more torque are added. This is how DTE Systems proves once again that even the most powerful diesel engine can be upgraded by the tuning experts from Recklinghausen.
More power and better accelerator response: an impressive combination
And even the throttle response can be optimized by DTE. The BMW receives the new PedalBox Pro and thus increases its acceleration by 10%. The installation is easy and the effect immediately noticeable. The accelerator pedal tuning of DTE leads to a better reaction and an enormously optimized response time. As a twin pack, PowerControl and PedalBox are the complete perfection, even in the world's most powerful diesel engine.
Chip tuning for BMW 750d
DTE at a glance
Technology leader since 1996
Developed and manufactured in Germany
Ready for shipment in 24 hours
Personal consultation
Safety & Warranty