DTE tuning: More Power for the Ford Focus RS
Chip tuning and PedalBox by DTE Systems
With its striking front and rear wings, the Ford Focus RS draws attention. The powerful compact convinces with its design - but still more by its performance. With the chip tuning PowerControl and the PedalBox from DTE, the Ford reaches a new level of performance and acceleration.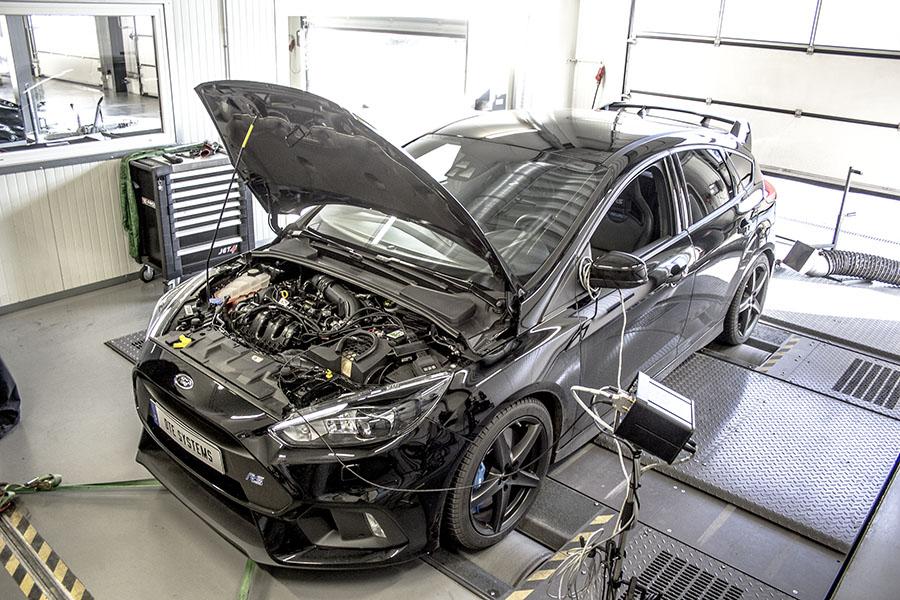 Ford Focus RS
Configure your Ford Focus RS chip tuning now:
Manufacturer
-----------------------------
Model
-----------------------------
Motor
-----------------------------
More performance for the Ford: That's how you overtake a top-class VW Golf R
With its all-wheel drive, the Focus RS EcoBoost has 350 hp and a torque of 440 Nm in stock performance. In order to unlock the full potential, the sporty Ford gets the chip tuning from DTE. The tuning is connected to the central sensors of the engine management, including charge pressure, camshaft and intake manifold pressure. The incoming signals can be recorded now, optimized and passed on to the control unit. With DTE's tuning box PowerControl the Focus RS increases its performance by up to 30%. On the road it finally reaches its full potential and gets a power output of +67 hp and +101 Nm of torque with the DTE chip tuning. Interestingly, the VW Golf VII R360S has just 360 hp and 460 Nm ex factory and is now defeated by the optimized Focus RS.
Focus chip tuning: Improved acceleration in the RS EcoBoost
In order to also optimize the acceleration of the Focus RS, the Ford is equipped with the PedalBox by DTE Systems. The PedalBox is quickly installed in the Focus with just a few hand movements. Two plugs are connected to the electronic accelerator pedal. With the three preset programs "Sport", "Sport Plus" and "City", the accelerator pedal tuning is immediately ready for use. The driver can easily control the tuning at any time by pressing a button. The improved throttle response is instantly noticeable when starting up the Ford Focus RS. If the turbo then really gets in motion it can also be seen in the sports mode of the PedalBox. On a wide range, the Focus increases its acceleration by up to + 10%. With enhanced performance and a response-free acceleration, DTE Systems provides a unique driving experience with PowerControl and PedalBox.
Chip tuning for Ford Focus RS
DTE at a glance
Technology leader since 1996
Developed and manufactured in Germany
Ready for shipment in 24 hours
Personal consultation
Safety & Warranty