Less consumption in the Ford
And even more powerful and torquey

A sporty, modern design and a great feeling of space make the Ford Focus IV a popular family vehicle. Added to this is a powerful standard output of 100 hp and 170 Nm. Despite the three-cylinder engine in the big car, the Focus pulls ahead powerfully. With the PowerControl X performance upgrade and PedalBox Pro gas pedal tuning, DTE awakens the full performance potential of the powerful station wagon.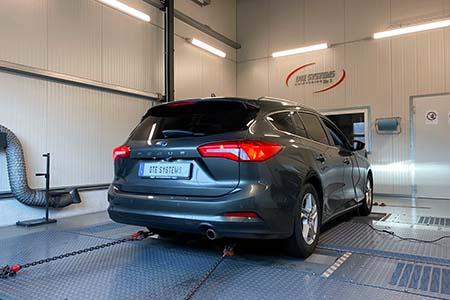 Ford Focus IV 1.0-liter three-cylinder in-line engine
Configure your Ford Focus IV chip tuning now:
-----------------------------
-----------------------------
-----------------------------
For(war)d with power, torque and PowerControl

With a three-cylinder in-line engine, the gasoline engine puts power and torque on the road. DTE's development team therefore had a great incentive to tune the station wagon sedan to peak performance. PowerControl brings the family car to 124 hp (+24 PS) more power and strong 206 (+61 Nm) torque. The improved driving dynamics and powerful performance are immediately noticeable and ideal for fast overtaking and a strong off-road performance.
Acceleration in the Ford Focus Turnier at the touch of a button

With PedalBox Pro, response can be improved instantly. In three simple steps, the gas pedal tuning is installed and can improve acceleration at the touch of a button. To do this, Ford Focus Turnier drivers have four programs at their disposal: City, Sport, Sport-Plus and Standard. The gas pedal tuning is also available via smartphone control: with the appropriate PedalBox app, the tuning box can be easily switched on or off via smartphone. In addition, all individual settings for the Ford Focus IV can be saved in the smartphone app. This means that the PedalBox Pro always starts with the desired settings that match the Focus.
Chiptuning for the Ford Focus IV Turnier
DTE at a glance
Technology leader since 1996
Developed and manufactured in Germany
Ready for shipment in 24 hours
Personal consultation
Safety & Warranty