535 hp in the Carrera GTS
Chiptuning PowerControl brings more power to the Porsche 911
With the racing chip PowerControl RX, DTE Systems boosts the sporty performance of the Porsche 911 to
over 500 hp
(367 kW) and over 650 Nm, turning the high-class sports car into a racy luxury athlete in just a few minutes, dominating the road with even more pulling power. Added to this is improved acceleration, allowing the cabriolet to dash forward with even more power.
---
Configure your Porsche tuning now:
-----------------------------
-----------------------------
-----------------------------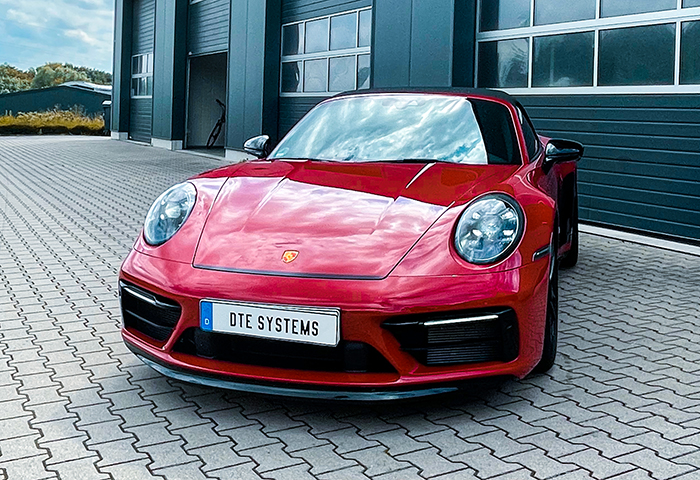 Porsche 911 Carrera GTS 3.0-liter 6-cylinder boxer engine with 535 hp (393 kW)
Porsche 911 is a cult object, status symbol and an absolute dream for sports car fans. As Porsche's flagship, the 911 has also been launched in 2021 as the Porsche 911 Carrera GTS. With 480 hp (353 kW) and 570 Nm, the convertible pulls from 0 to 100 km/h in 3.6 seconds, with a top speed of 309 km/h. A remarkable performance that makes the driver's heart beat faster. Rear-wheel drive and additional sports car features such as Sport Response Button or PASM sports suspension ensure a pleasant suspension and agile dynamics. To increase the feeling of freedom in the 911 Cabriolet, DTE Systems has developed the in-house PowerControl RX chip tuning for the Porsche 911 Carrera GTS.
Chip tuning PowerControl RX in the Porsche 911 Carrera GTS
The chip tuning PowerControl RX scoops additional power from the Porsche 911 to elicit even more power from the Cabriolet. Thanks to the in-house developed and produced performance enhancement, a healthy and strong additional performance of +55 hp (+40 KW) and +76 Nm can be achieved in the Carrera GTS, bringing it to 535 hp (393 kW) and 646 Nm. For this purpose, the plug-in module uses the DTE multichannel as well as multiprotocol technology, which, in cooperation with tuning algorithms specially adapted to high-performance engines, ensures more effective combustion and performance. Included with the increased performance, PowerControl RX includes a 5-year product warranty.
---
DTE at a glance
Technology leader since 1996
Developed and manufactured in Germany
Ready for shipment in 24 hours
Personal consultation
Safety & Warranty