Macan Turbo with +65 PS under the hood
The DTE performance tuning PowerControl SNT is now available
Since its launch in spring 2014, the Porsche Macan outshines the 911 with its registration figures. And with the DTE performance tuning PowerControl SNT both move closer together in performance. In series, the Macan Turbo is with 400 HP and 550 Nm on Carrera level. DTE improves performance by an incredible +65 HP to 465 HP, so that the Macan is capable of getting pretty close to the rear of a GT3. With a growing torque of +120 Nm to 670 Nm, it rises on into the league of a Porsche 911 Turbo. Great! This ensures astonished faces at the next traffic light start – guaranteed.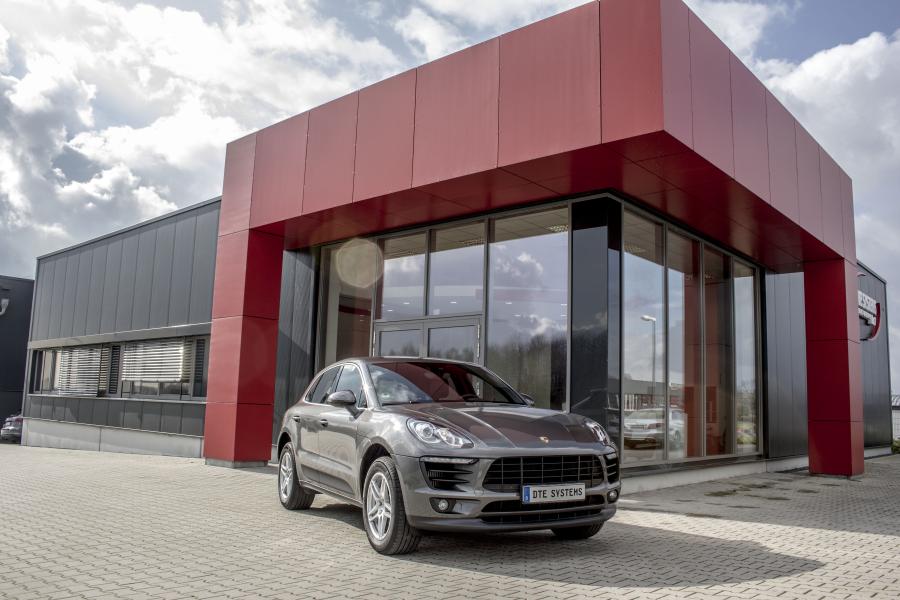 Porsche Macan S
Configure your Porsche Macan S chip tuning now:
Manufacturer
-----------------------------
Model
-----------------------------
Motor
-----------------------------
Perfect conditions for highest performance
Porsche Macan drivers will benefit from increased engine potential by the DTE performance tuning. The engine significantly responds more immediate and direct when implementing any operation commands, coupled with a powerful forward thrust. In addition, DTE provides every driver the opportunity to choose his or her own individual power program. Because, each DTE performance tuning has three different and totally customizable driving modes: Sport, Dynamic and Efficiency. The driver selects his desired program by using the keypad functions.
A new era begins: The technology behind the technology
So far, the driver of a Porsche Macan Turbo has to be satisfied with the factory output. A Chiptuning in the form of a performance-enhancing additive controller remained unfulfilled on the wish list of many Porsche drivers.The reason for that is the new SENT technology, which keeps moving into the engine management systems of many new vehicles. Because SENT sensors "communicate" with each other exclusively in digital. Those vehicles need a power increase of a special kind. At DTE, this kind of digital chiptuning is now available. With PowerControl SNT a new era of chiptuning starts now. From now on, the engine records, processes and optimizes digital signals. So much technology is behind the technology.
Power with guarantee and reliability
Perfectly matched to your Porsche Macan DTE uses the latest performance technology. The result is an impressive improvement in performance. The technology has the German part approval. There is also an extensive DTE guarantee. And the best thing: everything is already included!
Chip tuning for Porsche Macan S
Performance 400 hp (+65 hp)
Torque 550 Nm (+120 Nm)
More about Porsche
DTE at a glance
Technology leader since 1996
Developed and manufactured in Germany
Ready for shipment in 24 hours
Personal consultation
Safety & Warranty