Chip tuning Skoda Kodiaq: More horsepower for a big Czech
On top: the latest accelerator tuning for the latest Skoda
Skoda makes the next major step. Especially visually, the brand new Skoda Kodiaq stands out clearly from comparable SUV models. In the engine range, however, the Czechs rely on known engines from the VW Group. By using the tuning products from DTE Systems, the Skoda Kodiaq is now also more clearly distinguished from its group brothers SEAT Ateca, Audi Q2 and VW Tiguan.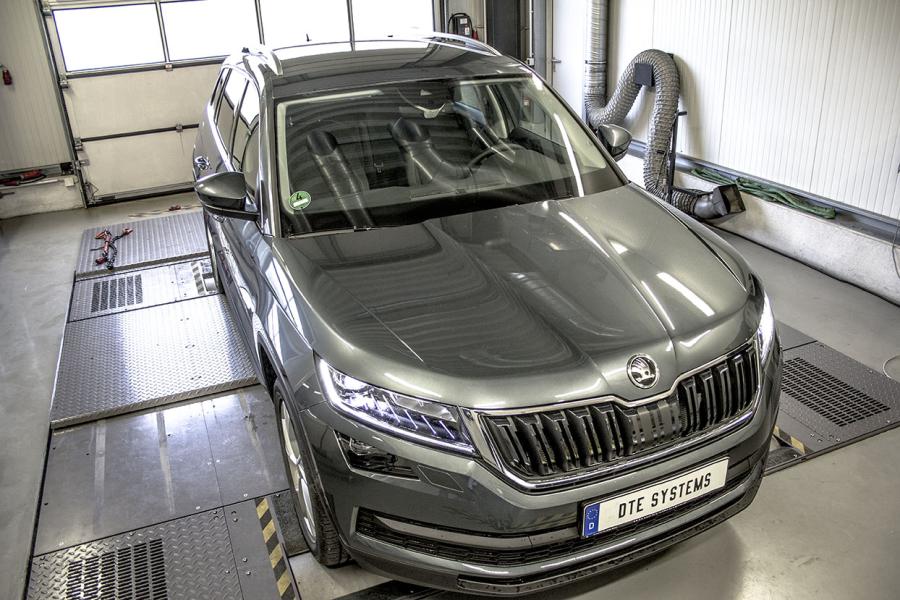 Skoda Kodiaq
Configure your Skoda Kodiaq chip tuning now:
Manufacturer
-----------------------------
Model
-----------------------------
Motor
-----------------------------
Skoda Kodiaq with the DTE engine tuning
At launch, there are five different engines available for the Skoda Kodiaq: the three petrol engines range from 125 to 180 hp, the two diesel engines have 150 and 190 hp. The latter and most powerful performance in the Kodiaq 2.0 TDI is significantly improved by the tuning products from DTE. The tuning system PowerControl is used for an improved performance and a higher torque. In addition, the accelerator pedal tuning with the PedalBox optimizes the response and ensures improved acceleration in the Kodiaq.
Skoda performance tuning: Easy installation and great functionality
The tuning's installation is quick and easy: connected to the central sensors of the engine management, PowerControl finds a place under the large Kodiaq bonnet. In addition to the injection time, rail and cargo pressure are now optimized. The impression after the first test ride: The Czech SUV is noticeably more spontaneous and more powerful - even over the entire speed range. On top of the line, additional +27 hp and +80 Nm of torque are available after the Kodiaq engine tuning from DTE Systems. So the new Czech comes within reach of the current VW Toureg 3.0 V6 TDI. And best of all: DTE's PowerControl for the Skoda Kodiaq 2.0 TDI is available with TÜV parts approvals – without additional charges.
New accelerator tuning for the new Kodiaq
The dual-clutch automatic gearbox in the new seven seat high-rider gets a faster response with the new PedalBox. The accelerator pedal tuning optimizes the response and improves the Kodiaq's acceleration. Compared to the stock performance of the VW Group brothers SEAT Ateca or VW Tiguan, the response time improves by up to + 10%. The new PedalBox convinces with a more precise and faster signal transmission and can be individually adjusted for the Skoda Kodiaq using the "PerfecTune" automatic custom tuning. With four pre-set driving modes and seven further fine adjustments, the Kodiaq driver has more than 20 different combinations.
Chip tuning for Skoda Kodiaq
DTE at a glance
Technology leader since 1996
Developed and manufactured in Germany
Ready for shipment in 24 hours
Personal consultation
Safety & Warranty