Mitsubishi chip tuning - powered by DTE
PowerControl - The racing chip for your Mitsubishi
✓ About 25% more performance for your Mercedes
✓ Including part certificate for over 4.000 models
✓ Simple installation with pictorial instructions
✓ Comprehensive warranty



Chip tuning for your Mitsubishi:
Your Kia can do more: Take advantage of a power increase of up to 30 % and 15 % fuel saving for your Mitsubishi as well as a good sense of security. For many Mitsubishi models the parts certificate is included. The same applies for the comprehensive warranty of the engine, the engine management and the differential. In addition, there is a 30-day money-back guarantee for all those who like to test and evaluate the new driving fun without any pressure.
Thanks to the DTE control module PowerControl X, significant performance increases are possible for Mitsubishi engine units. The engine tuning from DTE is connected to the central sensors of the Mitsubishi engine management system, including boost pressure, camshaft and the fuel injection sensors. Even in the compact SUV Mitsubishi ASX 1.8 DI-D with 116 hp, for example, an increase in output of +30 hp to 146 hp is possible. At the same time, torque increases from 300 to 365 Newton metres. This increase in torque is already noticeable on the first test drive. Even larger pick-up models of the Japanese manufacturer can be optimized with PowerControl X. In the Mitsubishi L200 2.4 Di-D with 181 hp as standard, an additional +30 hp is possible. As a result, the pick-up gains not only power, but also strength, and the torque increases from 430 Nm to a whopping 490 Nm for perfect off-road fun.
NEW: tuning control with the PowerControl App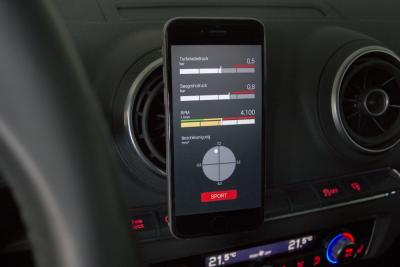 The new DTE performance of PowerControl and X can now also be operated from the cockpit. The chip tuning's extra power can be easily switched on or off with the smartphone. Simple wiping over the cell phone lets the driver change various programs depending on the driving situation: Sport, Dynamic and Efficiency.
A highlight of the PowerControl app are the performance instruments, which show all relevant performance data of the engine in real-time. The complete package of the PowerControl app also includes an innovative accelerometer and a configurable warm-up timer.
Easy installation & comprehensive warranty for Mitsubishi - Your advantages of PowerControl
Easy Installation
Simple installation with a plug-in-Method
Deinstallation possible anytime
Comprehensive warranty
2-year warranty on DTE products
Including parts certificate for over 4.000 vehicle models
Shopping with confidence
30-day money-back guarantee
Starting from 399 € incl. VAT. for your Mitsubishi
Purchase on account (only within Germany and Austria) and hire-purchase possible in our online shop
Mitsubishi performance chip is now available for the following models
Chip tuning for MITSUBISHI V-Series