PowerControl Chiptuning for BMW M4
BMW Chiptuning? If you're going to do it, do it right!
The M4 comes up with a six-cylinder engine – two more than in the first M3 and two fewer than in the last version. Its engine (S55B30) also features two turbochargers for the first time. Turbos are not known for giving an instant engine response, but they do produce torque. Yes, speed means a lot of fun, but you know what else is satisfying? Torque.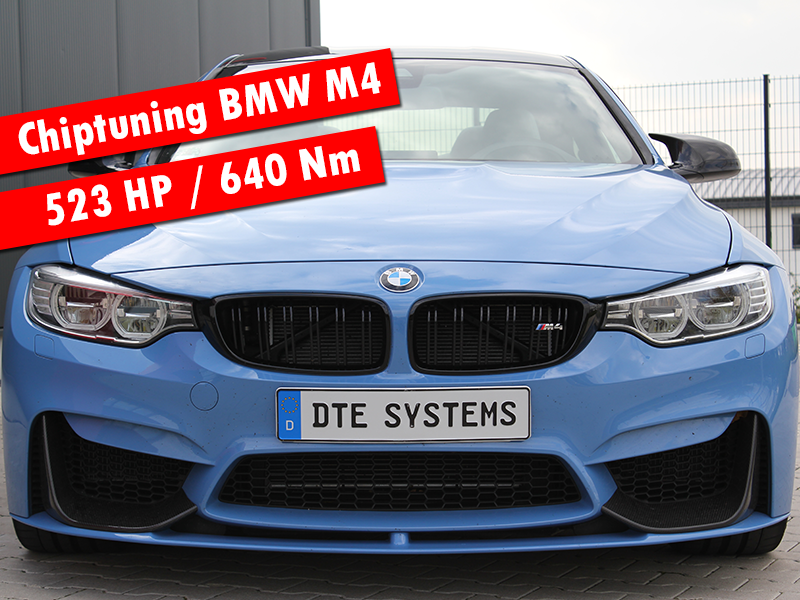 Chiptuning BMW M4 at DTE Systems
PowerControl BMW M4 - DTE Chiptuning
So, the key ingredients are all here: a powerful engine in the front to overwhelm the rear tyres, and, of course, the team of DTE behind it. The results of all of this hard work are some out-and-out striking numbers: Power is up from 431 HP to 523 HP (+ 91 HP), while torque rises from 550 Nm to a fairly whopping 640 Nm (+ 90). The performance is outstanding. A quick tab of the start-button initiates the ignition, and the BMW springs into life (and a tenth of a second later, your body back into the leather seat cushion).
Ready! More power for your BMW
How does it actually drive? Impressive, but only if you are brave. The harder you drive the M4, the more its finessed and playful handling shines. Set the M4 into a corner hard, brake hard, then press the throttle and the rear will come around in a beautiful drift.
With the Performance Pack the BMW responds as closely to natural aspiration as you would expect it from a M. It's very skilled and enjoyable.
A PedalBox? Serious?
Its quick response allows the driver to add and subtract power just in real time. Yes, and again DTE offers three modes for the throttle response. And if you want the fun to occur immediately choose the right settings - of which there are many.
For an extra kick: DTE PedalBox
PowerControl for the BMW M4 - DTE Chiptuning No.1
Many turbocharged engines require a heavy jump on the throttle. But that is not the case with the PedalBox on board.


In the Sport Plus mode e.g., the BMW rockets off the line. Turbo lag is hardly noticeable and the power delivery is smooth and linear with every launch forward. It all feels very easy.
Now I want it all!
Yet driving enthusiasts want the M4 for what it does best – the most performance-focused settings an absolute blast to drive. The DTE M4 has a level of performance that not only extends its driving performance beyond the standard M4 by being faster but brings a new level of refinement, efficiency and everyday usability.
For everyone looking to explore his real car potential DTE PowerControl and PedalBox are the ultimate must have - an excellent performance and supremely response.
You can also benefit fully from a DTE Performance Tuning for your BMW: