Corvette throttle tuning also via app
Faster start-up, better acceleration and confident overtaking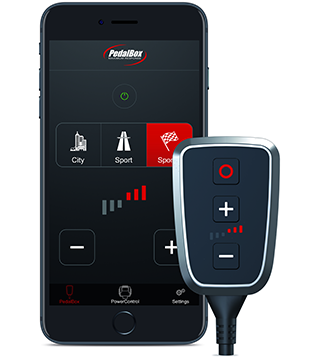 ✓
Better acceleration for your Corvette
✓
More than 20 settings available
✓
Improved throttle response
✓
Easy to install
Make a Selection
Manufacturer
-----------------------------
Model
-----------------------------
Motor
-----------------------------
PedalBox
for your Corvette: Better acceleration and more driving fun!
Your Corvette can do so much more: Accelerator tuning optimizes the reaction time of modern vehicles with an electronic accelerator or also known as, drive-by-wire. With the PedalBox, the vehicle reacts much faster to incoming signals from the accelerator pedal. With a significant increase in throttle response, you, the driver can immediately accelerate at any RPM and overtake with ease. Now say goodbye to delays in acceleration! The same applies to the comprehensive warranty for the engine, engine management and differential, meaning no interruptions to your vehicle's factory warranty. In addition, there is a 30-day money-back guarantee for all those who want to test the true power we bring to your Corvette! Whether you're driving a C2 or C7, we have options for you. And after a quick and painless install, once you turn those keys your Corvette is going to feel like a whole different beast!
Shopping with confidence
30-day money-back guarantee
Starting from 299€ for your Corvette
Easily pay via PayPal, credit card or
Amazon Pay
Quickly installed and ready to go!
The PedalBox is installed in a few simple steps. First, you will see a single plug connected to your accelerator pedal. Next you will be removing the factory plug, and putting in line the PedalBox plugs. And after just a few minutes, the install is finished! With 3 preset programs "City", "Sport" and "Sport-Plus" the PedalBox is immediately ready for use.
The PedalBox can be fine-tuned with a push on the plus (+) and minus (-) buttons. Three-color LEDs display the selected program and power level. With over 20 different settings available, you can truly fine tune the way you want your vehicle to respond. Instant acceleration with the push of a button. The PedalBox from DTE is pure acceleration free of any delay for all modern vehicles. Installed quickly, fun can start immediately.
Want to be the first to get upcoming news and promotions?