Chip tuning Porsche Panamera 4 E-Hybrid: The power trilogy
DTE Systems with the extra boost: dynamic, free-revving and highly dosed
Compared to its predecessor, the Panamera 4 E-Hybrid has a significantly increased performance: the pure electrical power provides 136 hp (+41 hp) and the twin turbo now 462 hp (+46 hp). Another +47 hp is added by the tuning of DTE and boosts the traditional Porsche driving pleasure. The same applies to the torque: In combination, the brand new electric motor (295 lb ft) and the turbo engine (516 lb ft) are already powerful and available almost immediately. DTE's PowerControl now adds a full extra and a further +54 lb ft. As a result, the Panamera leaves the hybrid competition far behind: Mercedes S 500 e L (442 hp) and BMW 740 Le (326 hp) cannot compete at this maximum performance.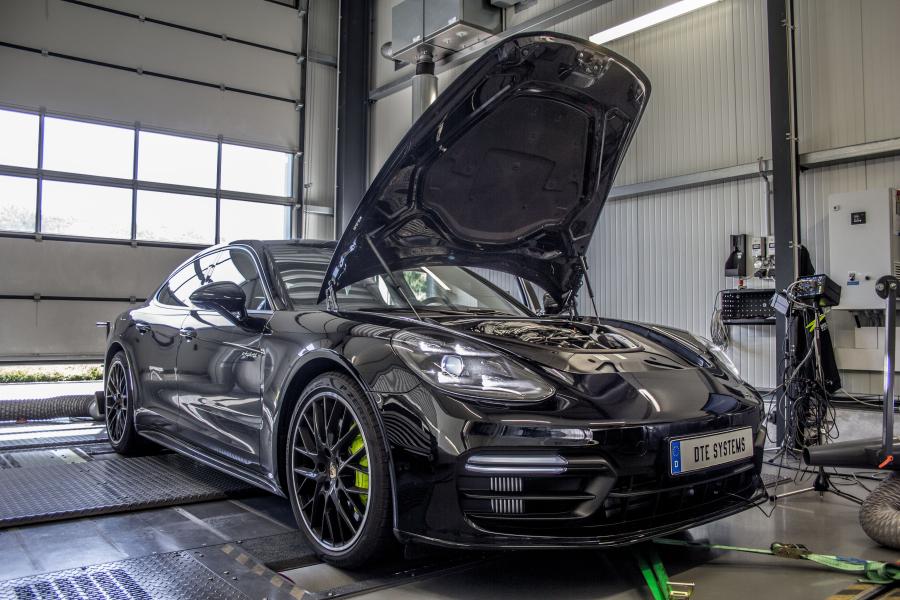 Porsche Panamera 4 E-Hybrid
Configure your Porsche Panamera 4 E-Hybrid chip tuning now:
Producent
-----------------------------
Model
-----------------------------
Silnik
-----------------------------
Porsche chip tuning from DTE: What's it like to drive?
The combination of electric motor, turbo power and DTE's tuning ensures the Panamera's perfect power trilogy: The E-Hybrid starts up in electric mode by default and pulls away from standstill almost silently. Soon, there is a need of the turbo engine's assistance. Together with DTE's tuning the car is heading towards high performance. The Panamera is now clearly more dynamic and more responsive, supported by a highly dosed power reserve. But it is getting even more intensive: with the acceleration tuning system PedalBox the Porsche Panamera gets the perfect boost option for anyone looking for the ultimate acceleration. The PedalBox improves the response and precisely calls up the Panamera's performance. The DTE performance tuning box PowerControl and the accelerator tuning PedalBox harmonize perfectly.
Install your chip tuning: Get more Porsche feeling
All tuning systems by DTE are supplied as a complete set - vehicle-specific programmed and with suitable connection cable. The installation in the Porsche succeeds in a few quick steps, thanks to the illustrated and detailed step-by-step installation manual. Once installed, the Panamera can start immediately. Each DTE tuning has freely selectable and fully customizable tuning programs. The Porsche driver can choose an own personal driving program: from sporty and dynamic to efficient, the DTE tuning can be used in any driving situation.
Chip tuning for Porsche Panamera 4 E-Hybrid
Performance 136 hp (+47 hp)
Torque 700 Nm (+73 Nm)
More about Porsche
DTE at a glance
Technology leader since 1996
Developed and manufactured in Germany
Ready for shipment in 24 hours
Personal consultation
Safety & Warranty