Jaguar chip tuning: Engine tuning for the sporty Briton
PowerControl - The performance chip for your Jaguar
✓
About 25% more performance for your Jaguar
✓
Including part certificate for 4.000 models
✓
Simple installation with pictorial instructions
✓
Comprehensive warranty
Configure your Jaguar chip tuning:
Producent
-----------------------------
Model
-----------------------------
Silnik
-----------------------------

Chip tuning for your Jaguar:
Experience a dynamic driving pleasure in the Jaguar with the performance system PowerControl and the new accelerator pedal tuning PedalBox+ from DTE Systems. The engine tuning optimizes the power of your Jaguar and convinces with its impressive performance. With the racing chip PowerControl from DTE, you will experience a completely new dynamic of your car. You can order the Jaguar chip tuning box online - including a 30-day money-back guarantee.
Jaguar tuning: More power with PowerControl
Raise the full potential of your Jaguar: With the DTE motor tuning your car achieves a performance increase of up to + 30% and 15 % fuel saving. The Jaguar F-Pace, for instance, generates 300 hp and a torque of 700 Nm in stock mode. Having installed the DTE performance car chip, the sporty cat of prey optimizes its performance by +40 hp and +63 Nm.
NEW: tuning control with the PowerControl App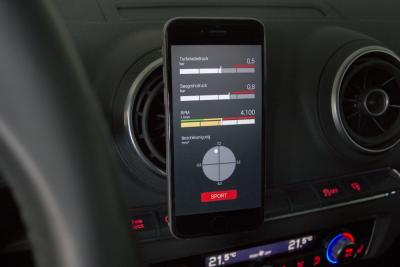 The new DTE performance of PowerControl X and RX can now also be operated from the cockpit. The chip tuning's extra power can be easily switched on or off with the smartphone. Simple wiping over the cell phone lets the driver change various programs depending on the driving situation: Sport, Dynamic and Efficiency.
A highlight of the PowerControl app are the performance instruments, which show all relevant performance data of the engine in real-time. The complete package of the PowerControl app also includes an innovative accelerometer and a configurable warm-up timer.
Improved acceleration: New PedalBox+ for the Jaguar
The new PedalBox+ provides a better acceleration for the Jaguar. Whether in the "City", "Sport" or "Sport Plus" mode - the pedal tuning system ensures the powerful Brit an improved throttle response in any driving situation. The PedalBox+ increases the Jaguar's acceleration of your Jaguar by up to + 10%. Ideally suited for a rapid start-up and powerful acceleration.
Easy installation & comprehensive warranty for Jaguar - Your advantages of PowerControl
Installation in few steps
Easy installation via plug-and-play
Back conversion in series condition at any time
Comprehensive warranty
2-year warranty on our products
Including parts certificate for over 4,000 models
Shopping with confidence
30-day money-back guarantee
Starting from 599 € incl. VAT. for your Jaguar
Includes a 5-year software update service on all DTE's products
Jaguar engine tuning from DTE is available for these models: