Alfa Romeo tuning: DTE turns the Italian top model into a flagship on the road
DTE Systems optimizes the performance of the Giulia with PowerControl RX and the PedalBox twice
The manufacturer from Italy has been producing "sporty jewels" for the road for more than a hundred years. The Giulia is a real eye-catcher among other car models by Alfa Romeo. With the tuning products from DTE Systems, PowerControl RX and PedalBox, the Giulia gets a double driving fun for the next asphalt contact.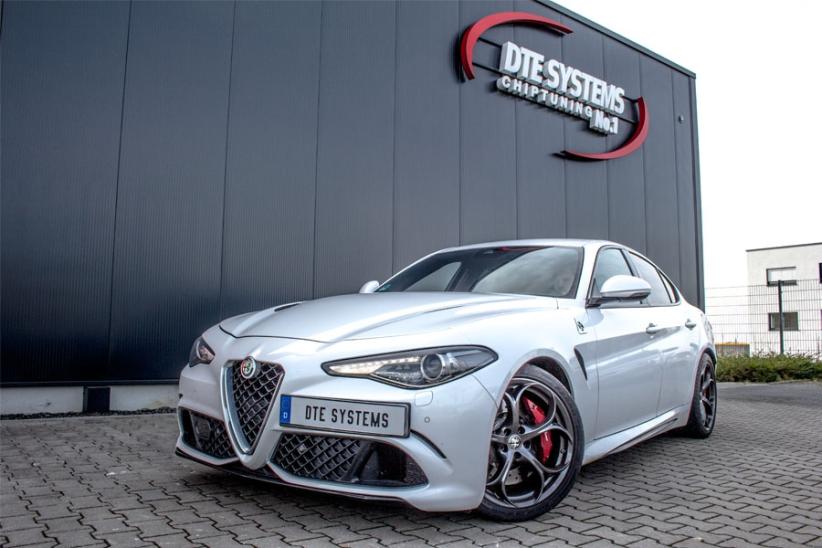 More power for Alfa Romeo Giulia
Configure your Alfa Romeo Giulia chip tuning now:
メーカーの
-----------------------------
モデル
-----------------------------
モータ
-----------------------------
PowerControl RX: More performance for the sporty Giulia
After a quick look, the compact executive car awakens great emotions in every car lover., the Giulia stands out clearly from other manufacturers with the typical Alfa face and its styled front. The Italian four-door is considered the performance flagship models in its class with 510 hp and 600 Nm (442 ft lb) of torque in stock performance. In just 3.9 seconds, the Alfa Romeo heads from 0 to 62mph. The Giulia is now even sportier by using PowerControl RX. The tuning box PowerControl RX generates +50 hp and +75 Nm (55 ft lb) within the Giulia. The tuning box quickly unfolds an unbeatable boots in - the driver experiences the improved performance through the engine tuning behind the wheel. The six-cylinder twin-turbo conveys powerful and safe driving.
PowerControl app: tuning control via smartphone
The new PowerControl app makes it easy to control the DTE tuning from the car's dashboard. The Giulia driver determines a personal tuning set with a simple swipe on the smartphone display. In addition to the program selection, the warm-up timer and the acceleration sensor, the sport instrumentation panel is an app's highlight. The Alfa driver gets the current performance data in real time sent to the smartphone.
Alfa Romeo Giulia: Faster start up with the PedalBox
In addition to the engine tuning, the DTE team installs a PedalBox into the Giulia. Now, the Italian presents itself from the strongest side, e.g. for a quick start at the traffic lights or faster overtaking on the next highway. The PedalBox is installed in a few simple steps. The result: The PedalBox improves the Giulia's acceleration by up to +10%. Similar to PowerControl, the driver has the choice between different programs when using the PedalBox: City, Sport, Sport Plus and Stock. The programs can be fine-tuned with plus and minus buttons. The PedalBox allows even more driving pleasure in the Giulia. DTE turns the Italian top model finally into a flagship on the road.
DTE at a glance
Technology leader since 1996
Developed and manufactured in Germany
Ready for shipment in 24 hours
Personal consultation
Safety & Warranty