Mercedes CLS 53 AMG: Strong chip tuning performance for the power sedan
Latest tuning technology for an improved AMG performance
Elegant and strong: The Mercedes-AMG CLS with the 53 EQ Boost engine (435 hp) and DTE tuning box PowerControl RX shows improved performance on the street. The AMG-performance upgrade PowerControl RX with the latest 5-channel chip tuning technology brings the sport sedan to enormous 505 hp (+70 hp) more power and 645 Nm / 476ft-lb (+125 Nm/+92ft-lb) more torque.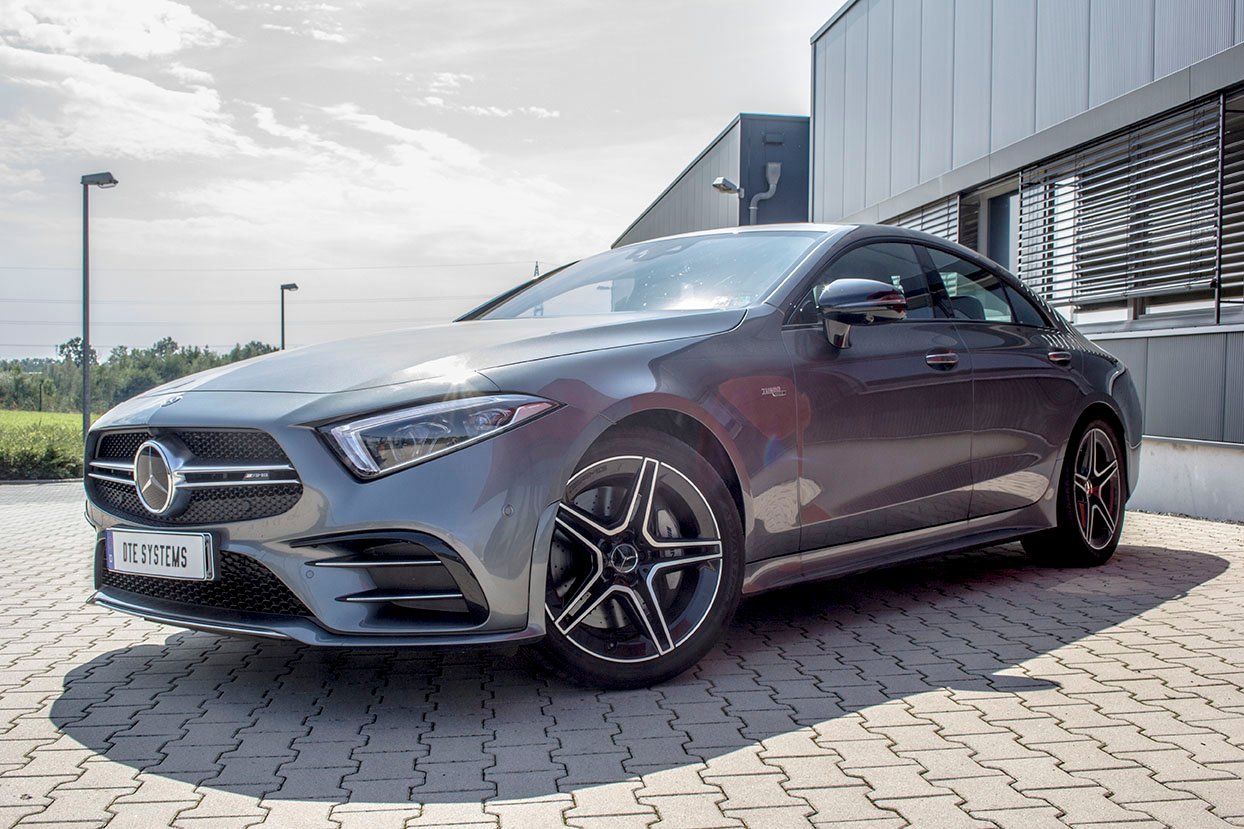 Mercedes-Tuning: PowerControl RX for even more AMG power
For improving the AMG performance, the chip tuning box is accurately connected to all central sensors of Mercedes's engine compartment, including boost pressure and camshaft sensor. The incoming signals are processed, optimized and dynamically forwarded to the Mercedes ECU in real-time. Immediately after the installation, the performance tuning box by DTE Systems unfolds an unbeatable force. Behind the steering wheel, the AMG driver experiences directly the optimized performance. Thanks to the DTE smartphone app, you can keep everything under control.
---
Find your performance upgrade for your Mercedes:
メーカーの
-----------------------------
モデル
-----------------------------
モータ
-----------------------------

PowerControl app: AMG tuning control via smartphone
The tuning can be easily controlled via the smartphone's app from DTE Systems. Mercedes drivers can choose an individual DTE tuning set-up for urban traffic, country lane or motorway. The new performance instruments are the app's other highlights: All engine data is displayed in real-time at the smartphone's screen while the innovative accelerometer shows the g-forces that are applied to the vehicle.
DTE Systems demonstrate an instinct for the right trends
From now on, the app-operation is particularly comfortable. DTE Systems is the first tuner also offering the PowerControl app with voice control for the Apple iPhone (from iOS 12). The driver can store the most important shortcuts in the tuning app and operate after setting up. The app than listen to the driver's word.
Brand new: Voice control for the Mercedes performance upgrade
Now available: Voice control for tuning systems
PedalBox Pro: Pure driving pleasure for the sporty sedan
In just 4.4 seconds, the Mercedes-AMG CLS 53 (W213) achieves 0-62 mph. The accelerator tuning of DTE Systems improves the AMG by up to +10% faster than in stock performance. That is perfect for a quick launch at traffic lights and more than enough poke to perform safe overtaking maneuvers out on the road. The PedalBox is plugged with only two connectors to the Mercedes accelerator pedal and is immediately ready for use. In addition, the PedalBox features various tuning programs: City, Sport, Sport Plus and stock condition. Therefore, the DTE pedal tuning allows an unforgettable AMG driving experience.
Mercedes-AMG engine tuning PowerControl RX and the PedalBox Pro throttle response controller are now available at DTE Systems. The tuning products can be ordered online at www.chiptuning.com/en or in specialist shops.
>> Configure your Mercedes performance upgrade
Chip tuning for the new Mercedes-AMG CLS 53 (W213)
Performance: +70hp
Torque: +125 Nm/+92ft-lb
Explore the advantages to help you get the most from your car:
PowerControl and PedalBox with multiple programs and performance levels
Tuning with remote control via smartphone app
Easy to install due to plug-in connectors
30-day money-back guarantee