Chiptuning Mercedes A 45 AMG: More power for the big compact
Best performance for the strongest 4-cylinder-engine
The A 45 AMG already has strength and dynamism in the series. The strongest version of the Swabian compact class has the world's most powerful 4-cylinder series motor. The hidden potential of the large 381 hp engine from 2016, reveals the Mercedes engine tuning from DTE Systems.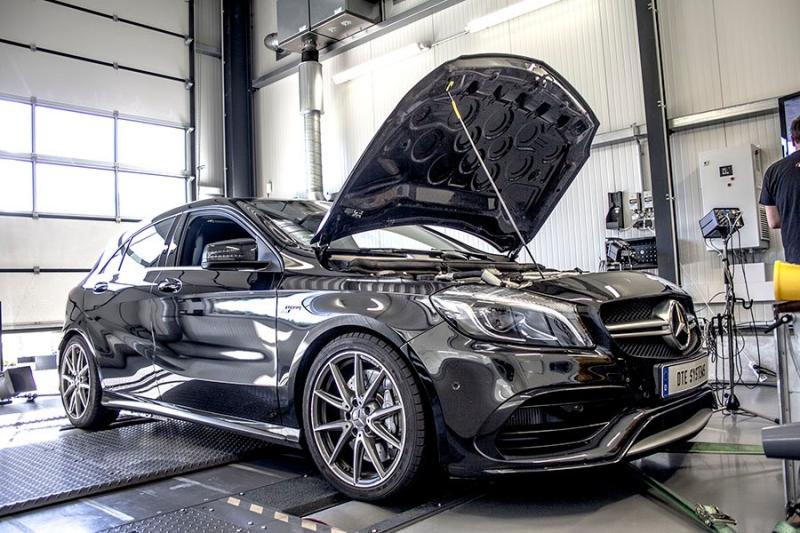 Chiptuning Mercedes A 45 AMG: More power for the biggest 4-cylinder engine
Mighty in appearance and elegant at the same time the black AMG moves to the dyno. The new Mercedes performance tuning Power Control for gasoline engines finds sufficient space under the long hood of the German. The work begins, when all central sensors are connected. And the result is remarkable.
Chiptuning for the Mercedes A 45 AMG: stable and robust
Punchy and with a clear discernible improvement in torque, the A45 is pulled ahead. On the roads it remains stable and strong, drives agile the curves. The power increase is noticeable over the entire speed range and remains constant.
Mercedes and Porsche: almost at the same performance level
The engine power grows by 53 hp to awesome 434 hp. This means that the A 45 AMG has nearly as much power as the Porsche 911 Carrera 4S - with a much smaller Mercedes capacity. Also, the torque of the Swabia grows and breaks the barrier of 500 Nm to 564 Nm (+89 Nm).
All highlights at a glance
More power: 434 hp (+53 hp)
More torque: 564 Nm (+89 Nm)
Comprehensive warranty included