DTE Systems presents the BMW M2 Trackmaster from Automotive Direct
The car wrapping of Automotive Direct's BMW M2 reveals its intentions: on asphalt, it is the true champion of the circuit. The black performance kidneys in front and the impressive rear spoiler in the back support its strategy impressively.
DTE Systems also make a noticeable contribution: The tuning box PowerControl, generates a full 420 hp and 600 Nm (443 lbf ft) within the M2. For comparison, the performance data of an Audi RS3 (8VA) with 400 hp or a Mercedes A45 AMG (W176) with 381 hp are more modest and puts the two compacts into the shade.
In addition to the increased performance, DTE also equips the M2 with the PedalBox. The accelerator pedal tuning system optimizes the BMW's acceleration and ensures a powerful start-up at each traffic light. With the PedalBox from DTE the pedal's response can be improved by up to 10%. Another advantage for the master of the road!
A BMW M2 with the full package of performance
The performance tuning box and the accelerator tuning system by DTE are in good company: With the KW Club Sport 3-Way, the increased performance data is optimally transferred to the road and specifically to every curve. The KW coilover with adjustable strut bearings has a possible adjustment range from 15 to 40 mm (0.6 to 1.57 inch). The wheel rims from Vörsteiner (VFF103 / VA 9,5x19 / HA 10,5x19) are also responsible for the best comfort and performance.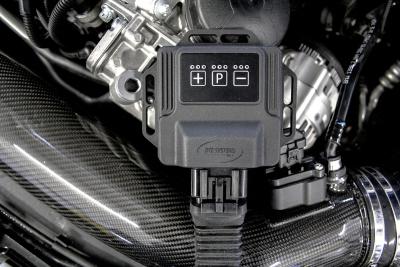 Performance at its best: PowerControl in the M2's engine
Trackmaster: tuning in every detail
The Cat-Back system by Remus, completely made of stainless steel, convinces with a flow-optimized inner life. For this purpose, the flow cross-section is expanded in order to achieve a perfect performance together with rich sound. The noble carbon tail pipes are the harmonious finish.
Sufficient supply of fresh air comes from Wagner Motorsport. The M2 intercooler has a larger inflow area (85%) and a larger charge air volume (90%) than the standard intercooler. The airflow is more evenly distributed with Eventuri's air filtration system consisting of a carbon-Kevlar composite housing. The air filter in combination with an air inlet system supports the performance development as well as the sound experience.
A BMW M2 complete tuning product range
The complete and extensive tuning program for performance and sound is brought to a fitting final by the 200 cell downpipe. The uncompromising quality of the materials from well-known tuning manufacturers let the driver feel a unique experience with rich performance and robust sound.
All tuning products carry either an ECE, CE marking or a general operating permit (ABE). Performance enhancements and accelerator tuning are available here, at the DTE Systems chiptuning online store. Intercooling systems, sport catalysts, coilovers and other exciting tuning options can be found at www.automotive-direct.de.