Engine tuning for the Renault Mégane GT: Long lives the sport - with DTE!
Chip tuning and better response time for the sporty Frenchman
The fourth-generation version of the Renault Mégane GT embodies the sporting spirit of the French manufacturer like no other model. Two inches wider than its predecessor, a torsion beam set-up at the back and an electrically assisted power steering: the Mégane GT remains tight and responsive on the open road. Using DTE's tuning box PowerControl, the 1.4-ton five door hatch now gets a decent portion of extra power. If the DTE accelerator pedal tuning PedalBox is also installed, the acceleration improves towards driving fun!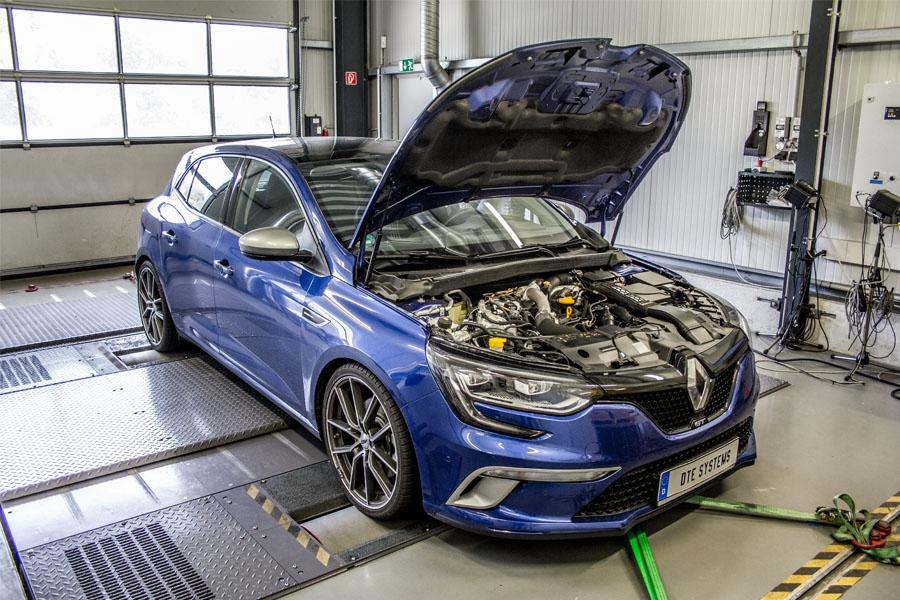 Renault Mégane GT 1.6 TCe
Configure your Renault Mégane GT chip tuning now:
-----------------------------
-----------------------------
-----------------------------
Renault tuning: Installing PowerControl for maximum sportiness
A muscular styling, distinctive LED wings for lights and a four-wheel steering system are some new features of the Mégane GT. The 1.6-litre four-cylinder turbocharged petrol already has some good power under the bonnet. In just 7 seconds, the Mégane GT heads from 0-62mph. With PowerControl from DTE Systems installed in the engine, the French hatch generates even more power: The DTE tuning box improves the Renault Mégane GT's performance by +21hp and +38lb ft more torque, which means a power that is almost at eye level with an Audi TT Coupé 2.0 TFSI. The DTE performance box develops a completely new sports car feeling. And the PedalBox provides the corresponding acceleration.
Better acceleration for the Renault: PedalBox Pro for the Mégane GT
The accelerator pedal tuning by DTE Systems is perfect for the sporty character of the Renault Mégane GT. The Frenchman's acceleration is increased by up to +10%. Thus, the Renault driver experiences an even more sporty driving pleasure. The PedalBox Pro let the driver choose between the three driving modes City, Sport and Sport+. Using the plus and minus keys, a fine adjustment of the individual driving stages is possible. The improved responsiveness and the optimized throttle response with the PedalBox Pro guarantee an even safer overtaking and more sportiness on highways.
DTE at a glance
Technology leader since 1996
Developed and manufactured in Germany
Ready for shipment in 24 hours
Personal consultation
Safety & Warranty